ALIDI Milestones - 2018
22.02.2019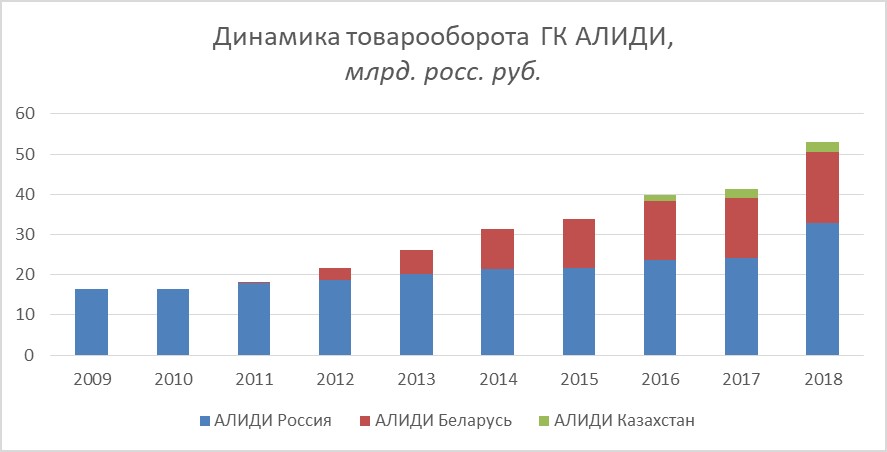 ALIDI summarizes results of 2018. This year the turnover of ALIDI Group exceeded 52.9 bln. rubles, demonstrating 28 % growth in comparison with 2017.
Such a rapid turnover growth was caused by the key project of 2018 integration of the business of a large distribution company CDC. As a result of business consolidation, ALIDI extended its coverage by 12 regions, including Belgorod, Bryansk, Voronezh, Kaluga, Kursk, Lipetsk, Moscow, Oryol, Smolensk, Tambov, Tver and Tula regions.
In frame of portfolio diversification strategy ALDI launched new distribution contracts with:
- start of sales of Nestle, Nestle Purina, Mars, Wrigley and Jacobs in the Murmansk region
- the start of operations under the contract with Nestle in Tver and Nestle Purina in Tver and Ufa
- ALIDI has expanded its area of responsibility under a contract with Nestle Waters, becoming the exclusive distributor in Russia
- start of sales of MacCoffee in Tver and Saransk
- a contract was signed with Fater and Coty for the supply of products to all national chains in Russia
Developing 3-pl services ALIDI became 3pl provider to DHL in Tatarstan, to Obyedinennye Kontery in Yaroslavl and Kazan.
To ensure the level of client services one of the biggest ALIDI warehouses in Moacow moved to a new logistic center "Valishevo" build in 2018. The total surface of ALIDI warehouse exceed 20 000 sq.m.
News subscription
This email is already subscribed.
Thank you! You are subscribed to ALIDI Newsletter!