ALIDI Milestones - 2016
ALIDI summarizes results of 2016. This year the turnover of ALIDI Group exceeded 39 bln. rubles, demonstrating 17 % growth in comparison with 2015.
The start of operations in Kazakhstan was a very important achievement for ALIDI business. The branch in Kazakhstan was opened in May 2016. ALIDI got an exclusive right for the distribution of Mars and Wrigley trademarks on the territory of the Almaty Region. ALIDI branch in Kazakhstan counts 400 employees, 200 of them work as sales representatives. The company covers more than 9000 outlets.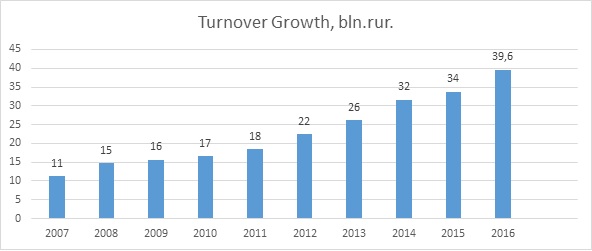 In 2016 ALIDI signed a number of important distribution contracts. Among them:

Distribution of Mars goods in Yaroslavl, Kostroma, Pskov, Veliky Novgorod
Distribution of Wrigley goods in the Yaroslavl region and expansion of coverage in the Moscow region.
Distribution of Slavyanka goods (Russian producer of chocolate and confectionery) in Saint-Petersburg and deliveries to national retailers on the territory of Russia
Distribution of FoodEmpire goods in the Moscow and Nizhny Novgorod regions.
In November ALIDI was named by Nestle Waters as the provider of choice for the distribution of company trademarks (such as Perrier, Vittel, San Pellegrinо). The start of operations under the new contract is scheduled on March 2017.
In 2016 ALIDI started to develop a new business – deliveries of goods to HoReCa customers. ALIDI Professional today exists in St. Petersburg, Veliky Novgorod, Pskov and Petrozavodsk.
Another success of the year 2016: ALIDI was chosen by P&G as a provider of promo consulting services in outlets of Kazakhstan and Belarus. In September 2016 ALIDI started to implement promo programs in this two countries.
"Summarizing the results of 2016 would like to thank you ALIDI staff for professionalism and devotion to the cause. I would also like to thank you our partners for the trust, - says Peter Demchenkov, ALIDI CEO. – In 2017 we plan to keep the same rate of business growth, accumulating expertise in various sales channels, developing new categories, keeping the focus on high quality services and increasing operation efficiency".
News subscription
This email is already subscribed.
Thank you! You are subscribed to ALIDI Newsletter!